To maximize your coating's benefits and ensure the long lasting investment, a few basic maintenance steps should be taken.
Special care is required during the curing process, which is typically the first 2-3 days after pick-up. During this time please avoid washing or rinsing your vehicle, parking under shedding trees or near sprinkler systems. Remove any noticeable bug splatter or bird droppings with the corner of a damp microfiber cloth.
After the curing process is complete, we recommend cleaning your vehicle every two to three weeks using a two bucket wash system.
Start by cleaning the wheels and tires with a separate bucket and designated brushes. Do an initial rinse on the vehicle to remove surface debris, the hydrophobic properties of your coating will cause the contaminants to bead up and roll off. Next apply a mild, ceramic safe soap such as Gentle Snow Foam by Kick Chemie or CarPro Reset if the vehicle is visibly dirty. We suggest using a foam cannon to agitate the soap as it is applied. Agitation causes bubbles which provides a deeper clean. With a soft, wet, and soapy wash mitt or microfiber towel, gently wipe the surface of your vehicle starting from top to bottom. Wash your vehicle panel by panel with a clean towel surface for each panel before rinsing the mitt or towel in your rinse bucket, then reloading with soap from your wash bucket. Continue washing a few panels at a time, leaving the bottom of the vehicle for last. Rinse off the vehicle to ensure no soap is left behind. The final step is to dry your vehicle. We recommend using an ordinary leaf blower to remove a majority of the water before using a soft microfiber drying towel. The blower also helps remove any water trapped in the cracks and crevices such as mirrors, door handles, emblems, grills and headlights, etc.
Always completely dry your vehicle, never let ground water air-dry. Ground water contains minerals which will leave deposits (water spots) to etch into your coating. Water spots are caused by automatic car washes, sprinkler systems, or leaving a vehicle to dry by air or sun. Another tip to keep in mind, avoid washing in direct sun. This causes the vehicle to dry quickly mid process and is prone to leave water spots and soap scum.
Don't use abrasive towels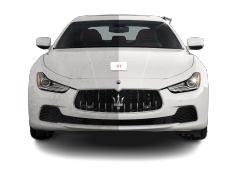 Granted, a ceramic coating offers unrivaled protection, but your vehicle is not impenetrable to damage. Ceramic Coatings need to be properly maintained just as any other aspect of your vehicle such as tires, oil/fluids, filter replacements, wiper blades, etc. In order for your coating to perform its best, your vehicle should be cleaned on a regular basis.
Once your ceramic coating has chemically bonded to your vehicle's clear coat during the curing process, it becomes extremely hydrophobic, more durable, resistant to damage, and glossier than your original clear coat making it look better than it did when it was new from the factory. The hydrophobic properties in the coating will not only make your vehicle stay cleaner longer, but also makes the maintaining process a breeze! Unlike a wax, a ceramic coating cannot be washed off over time.
Savannah Ceramic Coatings specializes in not only paint correction and protection, but also maintaining that flawless finish. Don't ruin your investment by going through automatic car washes that will beat the dirt and debris from the 100's of vehicles before yours, right into your ceramic coating! Instead, schedule a maintenance wash with us. We take pride in our work and love seeing your vehicle come back in great shape wash after wash!
Maintenance Wash:
For Ceramic Coated or recently detailed vehicles only. We will hand wash your vehicle with a ceramic infused shampoo foam and two bucket method, then apply a ceramic sealant to boost the hydrophobic properties. This service includes a basic interior detail. Starting at $125
**Additional $250 for Water Spot Removal**
Annual Maintenance: Your ceramic coating should be inspected by a professional installer annually to maintain the warranty. During our Annual Maintenance we will thoroughly clean the vehicle with multiple washes using different cleaning agents to inspect the performance of the coating. Once clean and inspected, your vehicle will be topped with a ceramic booster to enhance the coating's slickness, glossiness, and durability making it as if it were freshly coated. This service includes a basic interior detail.
Starting at $250
**Additional $250 for Water Spot Removal**
Not quite ready to commit to a ceramic coating just yet? No problem! We also offer professional detailing.
Exterior Detail/Decontamination:
Our decontamination process is the most extensive exterior detail comprised of multiple, thorough washes including clay-bar, iron removal, degrease, water-spot removal on paint and glass, as well as thorough cleaning of wheels and tires. Once completely clean, we will top the paint with a ceramic based sealant to preserve the condition until the next wash. Starting at $245
Interior Detailing
We offer a variety of interior detailing services to better suit the needs of your vehicle.
Basic: Thorough vacuum, all interior surfaces wiped down of dust and debris
Starting at $60
Advanced: Basic, plus high pressure blowout, secondary vacuum, and leather/plastic conditioner applied to surfaces.
Starting at $80
Full: Advanced, plus steam clean and hot water extraction on carpets/fabrics to remove as much contamination as possible, ozone treatment for odor removal, air freshener, and cabin air filter replacement (optional).
Starting at $250